Headquarters Economy and Nuclear Grade Stainless Steel Industry Application and Construction Project of Haiyan Fastener Transformation and Upgrade Demonstration Park
Construction unit: Jinshang Technology (Jiaxing) Co., Ltd.
Project address: east side of Jinzhou Road, Qinshan Street, south side of Jincheng Second Road,
Start time: May 24, 2018, duration 270 days.
The construction project of Haiyan Fastener Transformation and Upgrade Demonstration Park is the first industrial park project of Jinshang Technology. The industrial park adopts scientific and modern forward-looking concepts in design and planning, and will be built into an informatized and intelligent digital factory to drive the transformation and upgrading of the Haiyan fastener industry. After completion, it will be an international first-class stainless steel fastener manufacturing demonstration enterprise.
Huayang Chairman Zhang Changhong, as the general construction contractor, was invited to attend the groundbreaking ceremony with Huang Chengan, the chairman of Jinshang Technology, and the leaders of Haiyan County on April 8, 2018. This also marks the successful landing of the cooperation between Huayang and Tight Business, and a solid step in project construction. In recent days, the project construction working groups of the two parties have held several talks on the construction site, exchanged opinions on how to promote the project, actively communicated and discussed, and implemented each node requirement; implement the overall planning in advance, reach a consensus on cooperation, and accelerate Project implementation.
Despite the tight schedule and heavy tasks, quality and safety are always the prerequisites: to ensure the safety of on-site construction and the quality of the project, Huayang Project Department carefully organizes scientific construction to overcome difficulties and ensure that the project tasks are completed on time. With concentric mountains and jade, working together to turn gold into gold, the project staff will fight on the front line of the project with full enthusiasm and high fighting spirit, win this tough battle as scheduled, and submit a satisfactory answer!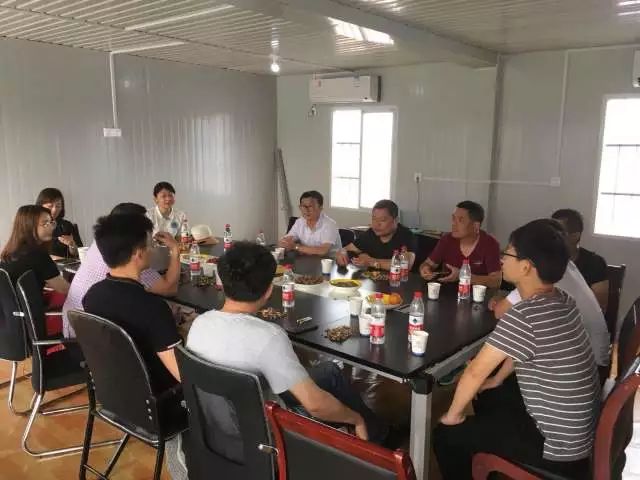 As a local benchmark enterprise, Jinshang Technology, a strong combination of this project and Huayang, will definitely promote the development of both parties. It is expected that both parties can further expand the breadth and depth of cooperation, further expand industrial projects that are in line with everyone's common development, and extensive cooperation, mutual benefit and win-win.